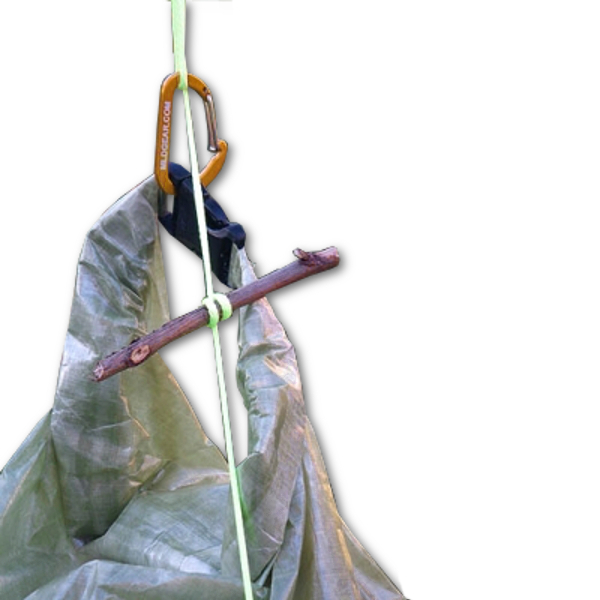 The following is the "PCT Bear Bag Hanging Technique," which can be used to get your Pro Bear Bag System up the tree and out f the reach of hungry bears!
THE PCT METHOD
Find a stick 2 ft – 5 ft long, about 0.5″ diameter.
Put a rock or gravel/sand in a rock sack and throw it over a branch 18 -26 ft high.
Clip the rock sack side of the line into the SuperFly Mini Biner.
Pull the rock sack line to pull the food bag up to the branch.
Reach up over your head and tie the line around the stick. Use a girth hitch or clove hitch.
Lower the bag until the stick jams at the SuperFly Mini Biner suspending the bag at least 8 ft off the ground…10 ft is better for tall Grizz.
Reach over your head and stuff the left-over line into the rock sack and cinch it closed.
BAG RETRIEVAL
Pull the line down, un-clip the line from the SuperFly Mini Biner, snap the stick to release the knot and lower the bag slowly. Watch your head.
NOTE: Clip the mini SuperFly Mini Biner or tie the line through the buckle, DO NOT tie the line overlarger stick can press on the wire gate sideways and damage the SuperFly Mini Biner. A pencil size stick is perfect.