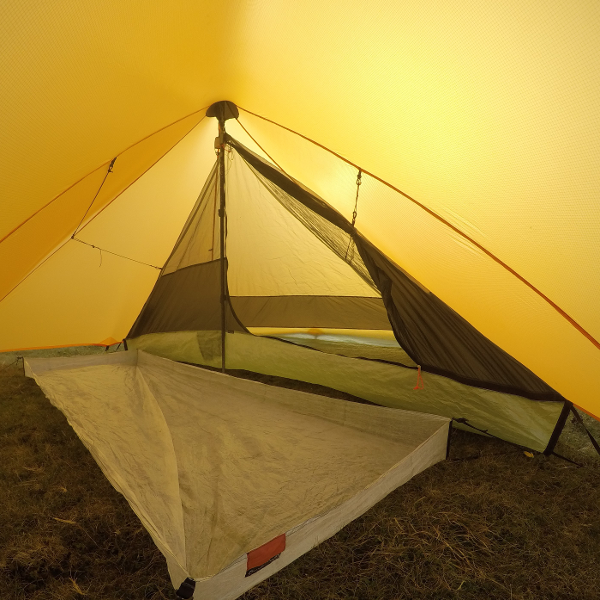 Wondering how to attach the Mountain Laurel Designs InnerNet correctly? It starts with your first pitch.
The first time you set up your Innernet with your Pyramid (Mid) or TrailStar will take almost 10-20 minutes. However, after the corner bungee loops are tied and adjusted correctly, set up will be much quicker!
FIRST SET UP
Insert the InnerNet and clip it to the inside apex loop. If your Pyramid is set high, cut an extra loop of bungee to connect the InnerNet Apex to the shelter. On the DuoMid and SuperMid, the extra top apex cinch bungee is used to reach the Pyramid's clip.
Note the distance from each corner of the InnerNet to the outer pyramid shelter. This is the length of bungee loop you need in order to reach the corners.
Cut and tie 3/32″ bungee loops to the Innernet corners.
Adjust the tension on the Innernet floor by lengthening or shortening the bungee loops as neccessary.
You can use additional stakes for the InnerNet corners. Similarily, you can clip the corners to the shelter stakes using long bungee cord loops or guyline.
Due to the amount of dust and dirt a zipper can pick up, we highly advise using McNett ZipCare. Use it on the zipper at first set-up and again after every 30 days of use for a long zipper life.
To give you various pitch options with the Pyramids (higher & Lower) the short elastic corner tie-out loops (with hooks) on the InnerNets are not long enough to fit any of the shelters exactly. The hooks are adjustable (up or down) to create the best angle for various pitches. To adjust the angle, simply slide the small hook higher or lower.
NOTE: DO NOT OVERSTRESS THE CORNER TIE-OUTS. ONLY PULL AND STAKE THEM TIGHT ENOUGH TO GENTLY FORM THE FLOOR'S SHAPE!
SEAM SEALING
You can use SilNet Silicone Seam Sealer on the inside corner seams and on any floor stitching. DCF versions are seam taped and do not need additional seam sealing.